ADEPTsuite Data Stream Conversion Software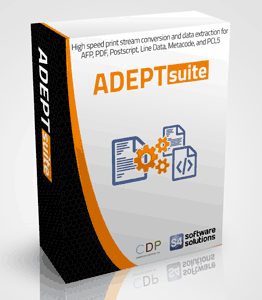 "ADEPTsuite is designed to significantly reduce the complexity and time that has traditionally been involved in managing a data stream transformation project," said Rick Saarimaki, President and CEO, CDP Communications.
What is ADEPTsuite
It's a high performance data stream transformation tool.
What does ADEPTsuite do?
ADEPTsuite converts a data stream into one or many different data streams. ADEPTsuite supports XML, AFPDS, Mixed mode AFP, IBM 3800-1, IBM 1403/3211 line data, Metacode, DJDE, ASCII line data, Postscript, PDF and PCL.
Why should you consider this software over competitors and other document composition output drivers?
All job setup actions are within an intuitive GUI.
Drag and drop creation of conversion or extractions rules. No scripting required so the software can be used by more businesses focused staff members with some IT knowledge.
Automatic job setup and configuration.
Visually faithful page viewing system.
Create very small PDF file sizes using font mapping, typically a quarter of the size of a rendered PDF file.  Very important for any archival and retrieval requirements.
Automatic font mapping for AFP and Xerox fonts as well as a GUI for easy customised font mapping.  No scripting of text file manipulation.
High speed production engine.
Low license cost.  Purchase a perpetual license or pay as you go.
Windows GUI job creation.  Batch engine runs on Windows, Linux, Solaris and AIX.
Simple setup for XML, CSV or indices (e.g. TLE's) extraction with many clever and very useful data manipulation options.
Don't pay for data stream drivers and features you will never use.  Purchase exactly what you require.
Full API set allowing other applications to call ADEPTsuite as part of their processes.
Suppress pages during the parsing process such as banner pages.
Create multiple outputs from a single input file. E.g. a separate index file with a PDF for archiving.
Thousands of users worldwide.
Online updates.
Once an ADEPTsuite job has been configured and tested, high speed multi platform transforms can be rapidly deployed to convert and extract large volumes of data.
Supported Data Streams
The Data Stream Formats table shows the supported transforms available to ADEPTsuite users.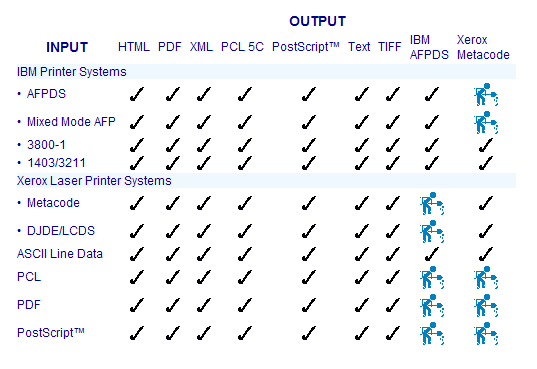 ADEPTsuite Workflow
With ADEPTsuite, your data never needs altering. Using ADEPT Job Setup, parameters are specified for the format of the incoming data stream and resulting documents.
ADEPT Visual Studio is used to map fonts and define fields for extracting data into indices and XML.
Batch applications are executed to convert incoming data streams into electronic documents and to extract data into index files and XML.
Supported Platforms
ADEPTsuite batch conversion runs on the following operating systems:
Windows
Linux
Solaris
AIX