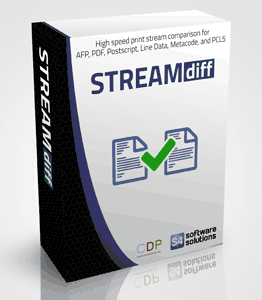 Be 100% certain that there are no issues with your documents after an application change.
Upgrading your document composition package? You will need to test all your documents against the old version to ensure there are no issues.
Migrating to a new document composition package? Test old and new document against each other to identify differences.
Moving from one data stream to another, for example AFP to PDF? We can check for differences between different data streams to make sure the documents are identical.
Take a look at our short explainer video
How does it work?
Use our STREAMdiff software to compare your know good documents against the new ones, simple, no really, it's simple.
STREAMdiff is so easy to use anyone with an understanding of the document process can use it. It's windows based and a standard Windows install.
Even if you only purchase one license you can install it on as many computers as you wish and STREAMdiff will manage the concurrent user license.
What Data Streams does STREAMdiff work with?
IBM's AFP
Adobe PDF
Adobe Postscript
Xerox Metacode
Xerox DJDE
HP PCL 5 and 5c
Line data
AND you can compare different data streams, for example AFP and PDF of the same document.
What Document Composition Software will it work with?
In short all of them as it's not software dependent. We have clients using:
DOC1
Exstream
Thunderhead
CSF
OpenText
PReS
Interested?
Please get in touch. Email alan.tomkins@s4ssl.co.uk or call Alan on 07860 659076